Mindset for Success
8-Week Mastermind Coaching Group
Getting to the Heart of Your Business (...y
ou)
"I am my business; my business is... me."
What makes a business succeed?
- Being surrounded by good people.
- Having realistic goals.
- Having access to resources.
- Having good operations systems in place.
- Taking good care of customers and clients.
- Being visible and memorable.
- Being nimble and adaptive.
- Understanding the marketplace; finding needs and filling them.
- Knowing when to take risks; knowing when to be prudent.

All of these things are true.
But there is another component: The human factor – You.
You are the heart and soul of your business. The hub; the mastermind; the captain at the helm.
You've got the vision, the goals, the drive to bring your ideas to life. Your business is your creation; it is an extension of you.
And because you and your business are so closely connected, the mindset you hold is what influences the success of your business.

What exactly is "mindset?"
Mindset is a way of thinking. It's a collection of thoughts and beliefs that shape your thought process - which in turn inform your feelings, attitudes, choices, and so on.
It may appear that you are making "executive decisions," or that you have an informed attitude, or possess justifiable feelings, but your mindset is oftentimes what's driving the bus, so to speak. Your mindset is setting the tone and leading the way.
So, when a mindset is limited, negative, or fixed, the mindset plays a major role in unwanted outcomes that ultimately interfere with success.
Consider these factors that are connected to mindset:
Stress & Anxiety
Relationship Conflict
Procrastination
Mood / Depression
Loss of Motivation
Inability to Focus
Distracted by Life's Demands
Feeling Overwhelmed
Burnout
Self-Doubt
Loss of Self-Confidence
Perfectionism
Imposter Syndrome
Imbalanced Life
Physical Ailments (such as headaches, digestive distress, skin issues)
Limiting Beliefs from the Past
Strained Relationships
The right mindset can make or break the success of your business (along with the quality of your life). The need for a healthy mindset is just as important as the need for goals, strategies, operations, customers, and profits.
A healthy, positive mindset keeps both you and your business energized for the long haul.
A positive mindset is the lifeblood of a thriving business. The heart and soul of your business.
That's why having a plan and a process for keeping your mindset strong and healthy is essential.
One of the best ways to intentionally strengthen your mindset is through the support of a group of like-minded professionals, where you can leverage the experiences of others.
The

MINDSET FOR SUCCESS

Mastermind Coaching Group supports:
boosting self-confidence

managing mental energy

overcoming imposter syndrome

finding solutions for procrastination

best practices for time management

the core belief of deserving success

keeping your body budget in balance

staying focused during distracting times

cultivating of willpower and self-discipline

sustaining motivation and positive mood

the power-combo of passion and expertise

uncovering blindspots that impede success

knowing and learning from your competition

breaking through hidden self-imposed upper limits

using communication that brings results, not conflict

defining success, and clearing the path for achieving it

maintaining prosperity consciousness and a success mindset

allocating your time with others in a way that supports your goals

I am my business; my business is me: clarifying your personal brand identity

unraveling negative reactions to people and situations (not taking things personally)

mind/body balance: reducing body tension for increased creativity and productivity
Join like-minded business professionals to find support, growth, validation, and transformation for all that you are, and all that you and your business have to offer.
ABOUT THIS GROUP
- This mastermind coaching group is held online via Zoom.
- This mastermind group meets weekly, for eight weeks.
- Meetings are for one hour. We start and stop on time.
- Prospective members must apply before admittance.
- Membership is capped at twenty participants. (Minimum of ten.)
- Program fee is $1,995 and includes eight group coaching sessions and two private15-min check-ins, per registrant.

PAYMENT INFO
The program is $1,997.
To make a payment, click here:
Mindset for Success Mastermind Group
... or click the image below. Credit cards and PayPal are accepted.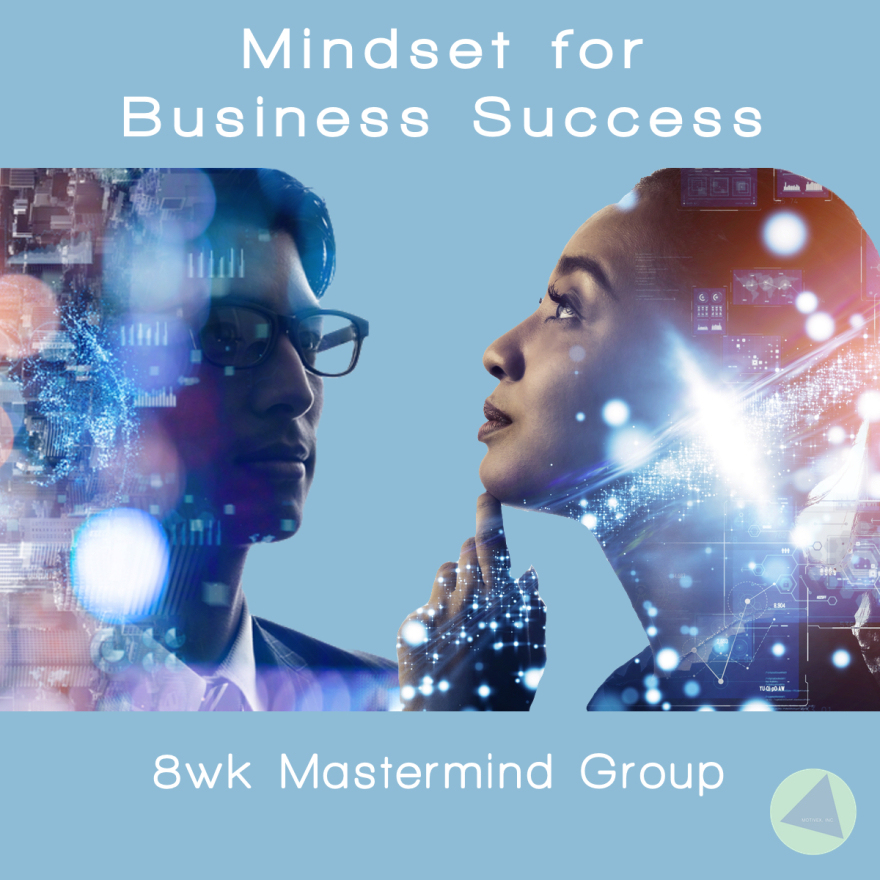 Got questions? Email motivexinc@gmail.com.

Enrollment for the Mindset for Success Mastermind Group is currently closed,
but if you'd like to be notified when it opens again, just let us know.